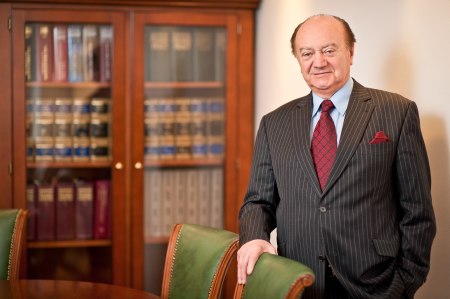 ---
Entry: Admitted to the Bar of Legal Advisors (District Chamber of Legal Advisors in Warsaw) in 1965.
---
Professional activity: Minister of Justice 2004 – 2005. President of National Bar of Legal Counsels 1995-2004. Dean of Warsaw Chamber of Legal Advisors 1983-1995. Judge of the State Tribunal 1989-1991 and 2002-2003. Co-founder of National Chamber of Commerce in Warsaw. Chairman of the Arbitration Board at the Court of Arbitration at the Polish Chamber of Commerce. Member of editorial boards of numerous legal journals. Member of the Supervisory Board at the Professions Club for Labor Affairs (affiliated with the European Union).
---
Practice areas: Administrative law, Corporate and Commercial law, Civil law, Employment law. Expertise in anti-trust law and unfair competition issues.
---
Education: Warsaw University (Master's degree in law 1963)
---
Foreign languages: Russian
---
E-mail: a.kalwas@kalwas.pl